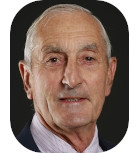 The History of Modern Refractive Surgery: A Tale of Two Centuries
Patrick Condon (Ireland)
Patrick Condon, born in the UK, studied medicine at the National University of Ireland, Dublin moved to London in the early 60s where he worked as a junior hospital doctor before entering his residency ophthalmic training at the Royal Eye/St Thomas hospitals. Following a period as consultant in the NHS South London group, he returned to Ireland in the early 70s becoming employed by the Department of Health as a consultant ophthalmic surgeon at University Hospital Waterford to the south-east of Ireland hospital group.
During his long career, Condon has acquired Fellowships from the Royal Colleges of Surgeons of Ireland , England and Scotland, a Mastership in Surgery (National University of Ireland), is currently a life fellow of the Royal Society of Medicine (London), an emeritus member of the International Intraocular Implant Club, and is an active member of the Royal Academy of Medicine in Ireland and the Irish College of Ophthalmologists
Based on his experience working as assistant to Eric Arnott who pioneered phacoemulsification techniques while a resident in the UK, he was the first to promote small incision surgery in Ireland in the early 80s and to insert foldable silicone and polyhema lens implants.
Based on his animal research work on corneal wound healing at the Royal College of Surgeons London during his residency program, he developed a keen interest in corneal transplant work using the Krumeich Guided Trephine System for penetrating grafts and the Ruiz Automated Corneal Shaper for lamellar keratoplasty procedures and went on to establish the National Eye Bank in Dublin for the supply of donor corneal material of which he became medical director.
In 1993, together with Prof. O'Keeffe at the Mater Hospital Dublin , the first LASIK procedure in the UK/Ireland was carried out using a hinged flap technique with a Summit OmniMed excimer laser.
Following an invitation from Cornelius Binkhorst to become the Irish representative for the newly formed European Intraocular Implant Council in 1980, he subsequently became treasurer and conference organiser from 1991 to 1998 during which time he initiated the incorporation of Refractive Surgery into the EIIC resulting in the change of name to the ESCRS and was responsible for setting up the Winter Refractive Surgery meeting the first one of which he organised 25 years ago in Madrid.
Major awards received were: Montgomery Lecture University College Dublin 1998, ESCRS Grand Order of Merit Medal 1999, Choyce Medal Lecture UKISCRS 2003, Ridley Medal Lecture ESCRS 2005, ASCRS Honoured Guest Education Award 2009, Lifetime Achievement Award Lecture UKISCRS, 2018.